First organized in 1985 by a small group of women interested in quilts, the Brazos Bluebonnet Quilt Guild (BBQG) is a non-profit, tax exempt organization which has grown to approximately 160 members. BBQG is dedicated to help those in need & to share with the community their love of quilts.
Next BBQG Meeting: Tuesday, Oct. 14th at 7 p.m.  
Program: "Mini" Quilt Show & Pot Luck
Statistics from September 2014 meeting:
Attendance: 78 members & 6 visitors & 2 new members
BOM: Gettysburg won by Debbie Ginn

The 2014 Donation Quilt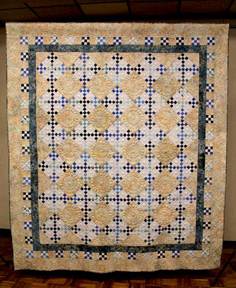 "Seascape" will be auctioned off very soon!

2015 Donation Quilt Chairman Position Filled:
Thank you Kerry Dwyer for volunteering to chair this very important job for 2015!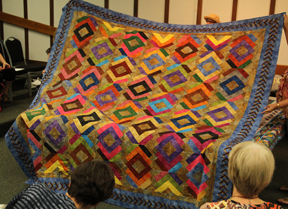 Here's a sneak peak of our 2015 quilt, "Diamonds in the Sand"
The finished quilt will be on display for the first time at the Brazos County Fair,
October 17-19!
This quilt will provides us with the majority of the scholarship monies we collect for 2015!
Door prizes: Our box is almost empty! Door prizes for guild meetings are donated by guild members and businesses. If you have something you would like to donate please contact Marty Fuller by phone 979-774-3759 or e-mail. Or bring door prize to the monthly meeting.
Quilting Bee Frame Needed: There are 16 ladies at the Lincoln Center learning to quilt! They are currently using lape frames, but would love to make larger quilts! If you have a frame to sell, loan or donate please contact Marty Fuller by phone 979-774-3759 or e-mail.
Results from the "2013 BBQG Quilt Show" can be found on the BBQG quilt show page, including a picture of the donation quilt, "Star Delight" shown with it's new owner.