Sept. 4-5 -- BBQG 30th Annual Quilt Show: "Diamond & Pearls"
                  Hours: Friday, 10 am - 5:30 pm, Saturday, 10 am - 5 pm.
                  (Brazos Center, 3232 Briarcrest Drive, Bryan, TX 77802)
Next BBQG Meeting: Tuesday, September 8th at 7 p.m.
 
In House Program: "Parade of Winners" Bring your ribbon winning quilt & share your inspiration & story of the quilt!
(Brazos Center Assembly Room 102)

Statistics from August 2015 meeting:
Attendance: 49 members & 4 visitors & 0 new members

Enjoy this thought by Sue Sprott:
"Your life is made of two dates and a dash. Make the most of the dash!"
Urgent Request to Guild:
2016 Donation Quilt Chairperson - Our beautiful Donation Quilt will soon be given away to it's new owner! Please - it's time to start working on plans for 2016!


2015 Donation Quilt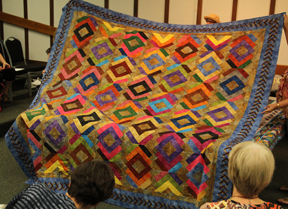 Providing us with the majority of the scholarship money we will collect in 2015! Please go to the BBQG Quilt Show page for further information about the quilt show as well as quilt appraisals.