Its raining!
After the drought I'm so grateful for the water! But with the rain comes sorrow.
As we reach out to those who have lost so much during these storms, I am humbled & grateful that our guild can provide some needed comfort to these folks!
June celebrates brides and dads as well as Flag Day!
So, keep inspired & keep on sewing! Let the creative juices flow!
--Sue Idol, President

Next BBQG Meeting: Tuesday, June 14th
Annual Work day for "Care Quilts" 9 a.m. - 4 p.m.
(Bring your sewing machine & project, or just show up and help!)
(Brazos Center Assembly Room 4: 9am-4pm)

In-house: Business Meeting, Scholarship Winners & Workday "Recap" 7 p.m.
(Brazos Center Assembly Room 102)

Statistics from May 2016 meeting:
Attendance: 68 members & 2 visitors & 0 new members

Care Quilt For Past President Sue Sprott
Sue Sprott receiving "Love" quilt made by Anne Perry, signed by all quild members (including a group picture). To wrap her in our love, as she fights her battle with cancer!
High School 2016 Scholarships: We are pleased to award two scholarships this year, to Haley Goodman & Hannah Hunt!! Please go to scholarship page for more information!

BBQG Members — please help!
"Rowlett officer looking for lost quilt's owner"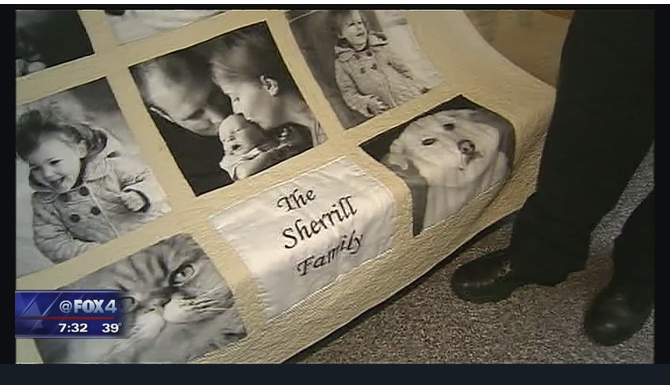 Cpl. Patrick Ray of the Rowlett Police Department is the temporary guardian of what is likely a treasured family heirloom.
                   http://www.fox4news.com/news/67614483-story

2016 Donation Quilt — let's get going! Check out the changes & challenges we face for the year!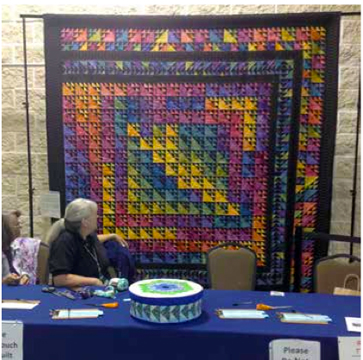 "Color In Flight"
This quilt will provide us with the majority of the scholarship money that will be collected in 2016! Please go to the Donation Quilt page for further information about this beautiful quilt.