First organized in 1985 by a small group of women interested in quilts, the Brazos Bluebonnet Quilt Guild (BBQG) is a non-profit, tax exempt organization which has grown to approximately 160 members. BBQG is dedicated to help those in need & to share with the community their love of quilts.


Next BBQG Meeting: Tuesday, July 14th at 7 p.m.  
Lecture: Paula Barnes - The Quilts & Their History

Statistics from June 2015 meeting:
Attendance: 52 members & 1 visitors & 0 new members

Enjoy this thought by Sue Sprott:
"Feeling gratitude and not expressing it is like wrapping a present and not giving it." (William Arthur Ward)

Urgent Request to Guild:
2016 Donation Quilt Chairperson - Our beautiful Donation Quilt will soon be given away to it's new owner! It's time to start working on plans for 2016!


2015 Donation Quilt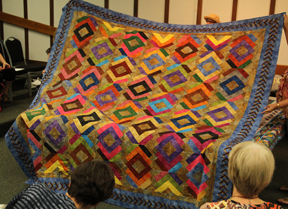 "Diamonds in the Sand"
Keep up with the quilt here -- it will provide us with the majority of the scholarship money we collect for 2015!
Vendors - Quilt Show Forms are now available!

Quilt Show deadline extended to 7/24:
2015 BBQG Quilt Show Forms are now available for download. Please go to the BBQG Quilt Show page for further instruction and all deadlines.