First organized in 1985 by a small group of women interested in quilts, the Brazos Bluebonnet Quilt Guild (BBQG) is a non-profit, tax exempt organization which has grown to approximately 160 members. BBQG is dedicated to help those in need & to share with the community their love of quilts.


Next BBQG Meeting: Tuesday, May 12th at 7 p.m.  
Lecture: Teresa Duryea Wong - The History of Japanese Quilts

Statistics from April 2015 meeting:
Attendance: 77 members & 4 visitors & 3 new members

Enjoy this thought by Sue Sprott:
I hope this month you "don't hurry, don't worry, and don't forget to smell the flowers." Keep Stitchin'


2015 Donation Quilt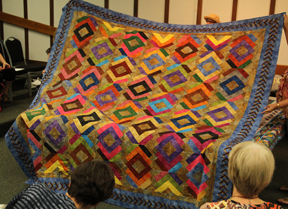 "Diamonds in the Sand"
Keep up with the quilt here -- it will provide us with the majority of the scholarship money we collect for 2015!
Vendors - Quilt Show Forms are now available!

2015 BBQG Quilt Show Forms are now available for download. Please go to the BBQG Quilt Show page for further instruction.